Aluminum plastic separation machine is used to separate the aluminum plastic composite materials like aluminum plastic composite panels, food packages, medical blister pack, etc. The aluminum plastic separation process include crushing, grinding, water cooling, spin vibration sieve and electrostatic separation. Through the separation process, aluminum could be separated from plastic, both for recycle use.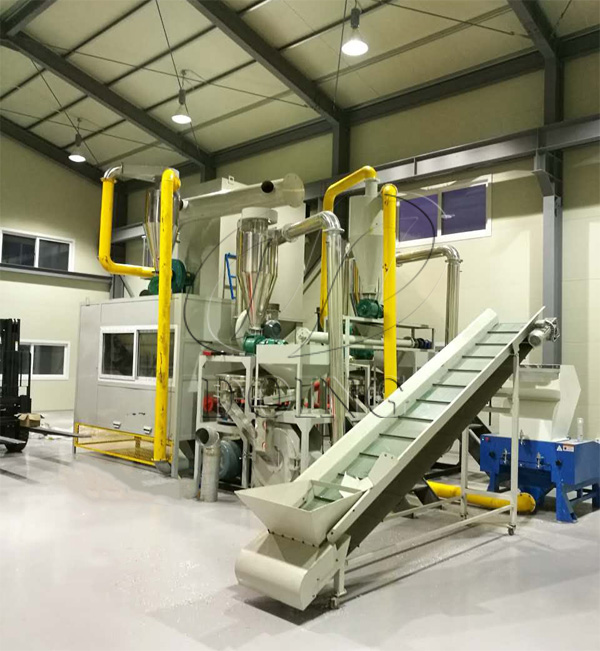 Aluminum plastic separation machine
Application Scope of Aluminum Plastic Separation Machine:
Many kinds of aluminum plastic composite panels and packages, like medical blister, food package, etc.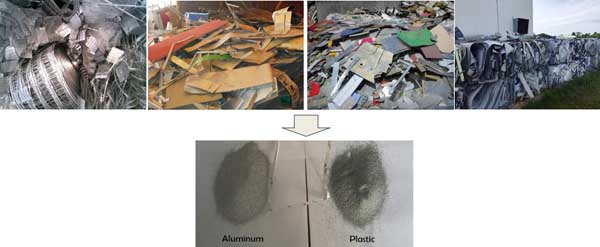 Aluminum plastic separation machine process
Specification of Aluminum Plastic Separation Machine:
General Model
Capacity (kg/h)
Power(kw)
Dimension (mm)
Weight (kg)
Separation Rate
DY-300
200-300
70
7500*6000*4200
6500
≥99%
DY-600
500-600
115
9500*7500*4200
7800
DY-800
700-800
215
11500*8000*4200
12800
Main Features of Aluminum Plastic Separation Machine:
1. The whole process of the aluminum plastic separation machine is controlled by PLC, which is fully automatic to work.
2. Compact structure, reasonable layout, stable performance, with noise reduction control.
3. The crushing and grinding system is equipped with circulation water cooling device, which could ensure the plastic not be melted or discolored during the crushing and grinding process.
4. The separation process adopts dry type electrostatic separation, no water, no chemical, no fire, no heating, thus no pollution to the air, but only bring benefit by recycling the scrap to usable products.
5. Dust would be collected by pulse dust collector during the production process, thus to keep clean working environment.
6. The separation rate and purity could reach to 99%.
DOING Company is a manufacturer specializing in the manufacture of aluminum plastic separation machine, welcome your call.