PCB board recycling machine is a kind of e waste recycling machinery, which is specially designed for separating the precious metals from resin and fiber for recycle use. The whole process adopts mechanical separation methods include crushing, air separation and electrostatic separation, no fire, no chemical, no secondary waste, total friendly to the environment.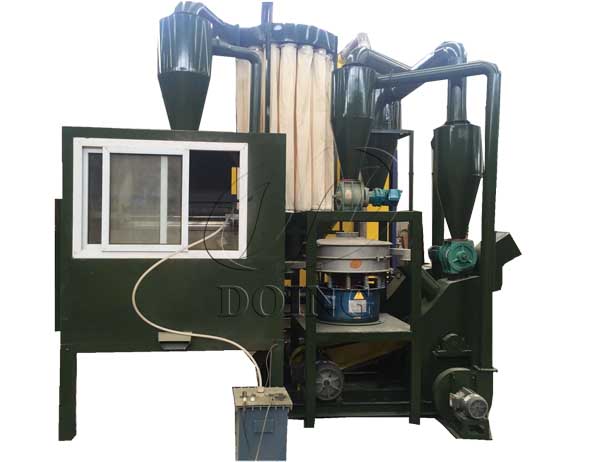 PCB board recycling machine
Application Scope of PCB Board Recycling Machine:
The input materials could be waste printed circuit boards, copper-clad plates, computer mother boards, etc.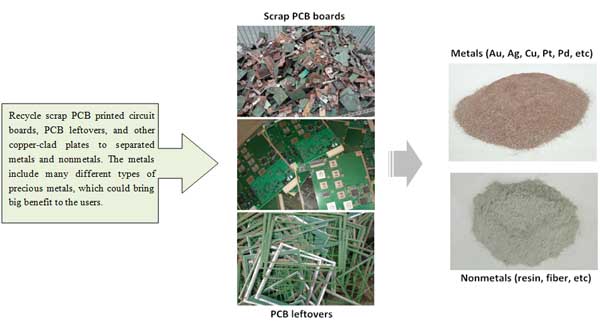 PCB board recycling
Specification of PCB Board Recycling Machine:
General Model
Capacity (kg/h)
Power(kw)
Dimension (mm)
Weight (kg)
Recovery Rate
DY-1000
150-200
45
6000*7500*4200
4250
≧99%
DY-1500
200-300
68
7000*8200*4500
6500
DY-1800
300-500
110
8000*11000*4800
8500
DY-2000
1000-1200
198
8200*16000*5250
12500
Design Features of PCB Board Recycling Machine:
1. The whole PCB recycling process is controlled by PLC system, easy to operate, fully automatic;
2. Reasonable layout with compact structure, stable performance, low noise;
3. The crushing process include primary shredding and fine crushing with circulation water cooling to ensure the good performance;
4. Adopt negative pressure feeding system with pulse dust collector, which ensure no dust leakage and clean working environment;
5. The separation process adopts air separation and electrostatic separation methods, the separation rate of metals and nonmetals could reach to higher than 99%.
Auxiliary Equipment: PCB Dismantling Machine
PCB dismantling machine is the supporting equipment for PCB recycling machine to dismantle the electronic components from PCB base boards before crushing and separation process. The electronic components dismantled from PCB base boards could be collected and sold separately.
PCB Dismantling Machine