There are many methods to recycle waste copper wire. However, now the latest and most popular copper wire recycling method is the copper wire granulator, a machine which is specially designed to recycle the metals from the waste copper wire.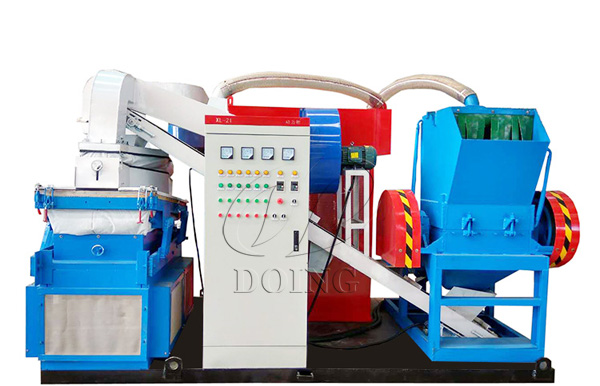 Copper wire granulator
The processing of the copper wire granulator is simple and the machine is easy to operate too. Firstly, the machine will crush the copper wires into small particles so that the copper and plastic could be separated effectively in the following process. Then through the air separation and electrostatic separation, the separating rate could be reaching to almost 100%. So the final product copper separated are very pure, so it has a good selling market too. You could sell them directly for profit.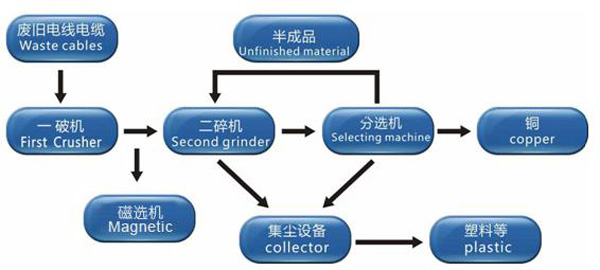 The working process of copper wire granulator
Copper wire can be seen everywhere in daily life, and as we know the waste copper wire is rich in copper, so it makes the waste have high recycling value. Compared with the traditional copper wire recycling methods, the copper wire granulator has its own obvious advantages. For example, the whole process of the copper granulator is fully automatic, so it's more efficient compared to the manual peeling. As for the environmental friendly, the copper granulator could totally achieve it. The whole process of this machine is just involved in physical process, so there will be no pollution produced. That' s also why the copper granulator is becoming more and more popular copper wire recycling method. Furthermore, the cost of the copper granulator is not high too.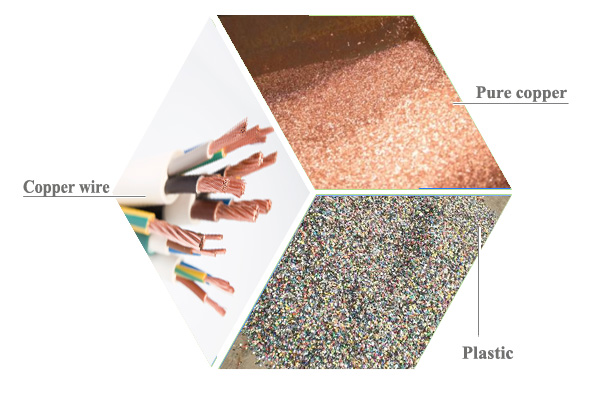 Copper wire recycling to pure copper and plastic
If you want to know more about this copper wire granulator, don't hesitate to contact us!