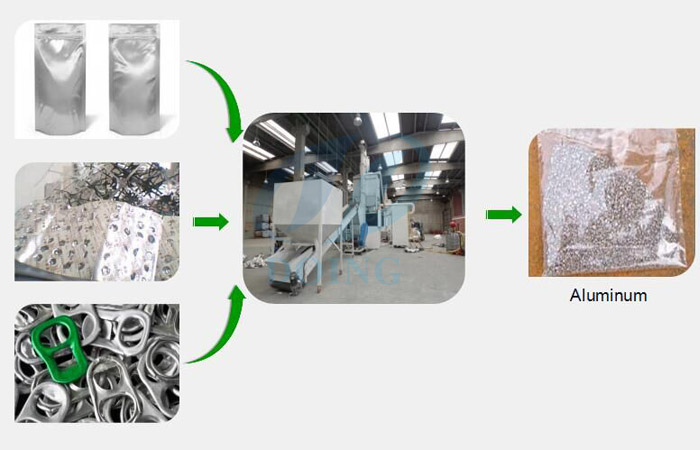 Waste aluminum plastic recycling machine
Waste aluminum plastic recycling machine is a high efficiency energy-saving product which is developed by our factory based on absorbing separation technology at home and abroad .With years of experimentation and theoretical analysis ,this machine can reach the best separation effect .The ratio of impurities after separation will be less than 1% , the separation efficiency is up to 99%.



Waste aluminum plastic recycling machine working process

Waste aluminum plastic recycling machine working process
Firstly, by hook the car send a lot of materials into crusher, repass secondary crushing and tertiary grinding powder decomposition, and then through the sieve after the decomposition of the finished material through six roller electric machine one-time separation, separation of plastic and metal.

Waste aluminum plastic recycling machine feature

Aluminum plastic recycling machine separation process
1. All the process is physical separation, without heating, burning, water and chemical, so it is environmental protection and no pollution.

2. The process low cost, high efficiency and separation rate can be reached 99.8%.

3. The production line is automatic, saving labor; just one or two person is enough for operating machine.

4. This production line is used widely.

5. Aluminum plastic recycling machine installation is convenient, has a variety of assembly method, can adapt to different venues.